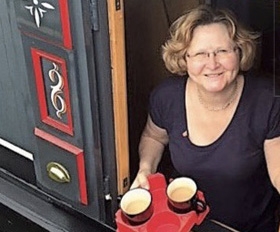 Rachel, a keen walker, had been suffering for about 10 years with painful knees. She loved fell walking in The Lake District where the "up hills" were becoming a bit of a struggle but the "down hills" became increasingly painful and difficult with each step. Day to day activities were severely hampered by the pain and she had to haul herself upstairs, unable to walk up without the support of the handrail. She was also experiencing pain at night.
She and her husband own a canal boat and trips on these became more and more difficult as it requires jumping off the boat onto an uneven tow path. She became reluctant to do this because of the pain and the trips became much less enjoyable.
Rachel initially tried a sports physio who gave her a lot of exercises to strengthen and support her knees and she did these exercises for a couple of years. This really helped but the underlying problem persisted. Her physio suggested she went for an Xray which showed she was bone on bone and after consulting her GP, who recommended Mr Vedi, she made an appointment to see him.
In the consultation with Mr Vedi he examined her knees, discussed the history and looked at the Xray which confirmed both knees were as bad as each other. He talked through the options, such as a partial replacement and steroid injections and explained why some of these were not appropriate for Rachel - her best option was to have a full knee replacement on both knees. He offered her the option to have both done at the same time, rather than done separately. This seemed to her to be a good option as it would get it over and done with in one go and she could get back to her life sooner.
The surgery was done at the Spire Thames Valley Hospital and pain management in the hospital was excellent. She was sent home with strong painkillers so that coping in the first few weeks was not a problem.
The first week Rachel was shuffling around with a frame – which then progressed to sticks and after two weeks Rachel was managing in to walk the house unaided. Within a month, she was walking a mile a day and after seven months she was managing six miles in one go. Recovery is a gradual process, but little improvements added up to big gains and at nine months she feels almost back to normal.
Rachel said "Mr Vedi was very understanding. He talked through everything, clearly giving me all the options available. He was also so reassuring when I was anxious about going home from the hospital and was a bit tearful – he went out of his way to put my mind at rest."
She added: "I am getting there with my recovery. It is a very gradual process and I need to be patient. In July at 8 months, it was my first time back on the boat which felt fantastic. Although I am still cautious about getting on and off the boat, I can now step off which I could not do before my surgery."
Rachel concluded: "I would recommend Mr Vedi without hesitation to anyone having hip and knee issues - and now my knees are sorted, if I had problem with my hip I would definitely go and see Mr Vedi."