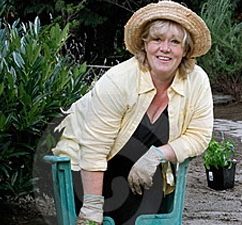 Janet, age 72 from Chesham is back gardening after having pain-relieving NStride treatment in the knee.
Janet originally had a total knee replacement on her left knee at the Chiltern Hospital in August 2017, but she struggled a little after and had to have her knee manipulation under anaesthesia which improved her functionality with the help of some extra physiotherapy.
A year later, she started having lots of pain in her right knee and was determined not to prolong the pain this time round and find other options rather than invasive surgery.
So, in December 2019, she was referred into the NHS Bucks-MUSIC service – where they identified medium to severe osteoarthritis in the right knee. Janet didn't want to wait for treatment and was prepared to pay – so her Tai Chi teacher suggested she see a consultant at BMI Bishops Wood Hospital. She saw Mr Vedi and had an Xray confirming osteoarthritis in her right knee. Mr Vedi provided her with all the options and also offered the NStride injection which he has a 70-75% success rate and was a self-pay option.
Janet was hesitant at having another knee replacement so wanted to try the less invasive option.
Janet said "Mr Vedi's bedside manner is second to none. He calms you and he is very kind. I came out of my consultation on cloud nine, knowing there was an option that did not need to be surgery".
Janet had the NStride injection in August 2020 – it did not take long – 40 minutes with no local anaesthetic needed and she had the injection straight into the knee.
Janet continued, "The treatment, an autologous protein injection has made a huge difference to my level of activity. Before, I was not able to walk my dog or dig in the garden and I felt I was going into a deep depression. four weeks after the treatment, I have been feeling so much better. I've been able to walk downhill, walk the dog again and I was even back doing Zumba. I would definitely have the NStride treatment again."