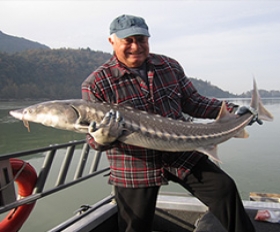 Kevin, a keen fisherman from West Drayton is back mowing lawns after his second total knee replacement with Mr Vedi at Spire Thames Valley Hospital in October 2020.
Back in 2010, Kevin, age 75 started experiencing pain and swelling after walking and he would need to lie down from mid-afternoon each day. Kevin was a keen golfer but had to give this up before he had his first knee replacement in 2014 with Mr Vedi.
Kevin's ex bank manager recommended Mr Vedi, saying 'he was brilliant'. After an Xray, Mr Vedi quickly told Kevin the cartilages in his knee were gone and he was completely bone on bone. Both knees needed to be replaced - but the right knee was worse and needed immediate attention. Kevin paid for his first knee replacement himself at BMI Bishops Wood Hospital with Mr Vedi and after five years, Kevin had several steroid injections over 20 months to alleviate the pain in his left hip and slow down the need for the second knee replacement. But finally, the pain got too much and Kevin had to mow lawns with only one leg! So, Kevin went back to his GP and was referred back to Mr Vedi who saw him on the NHS through Choose and Book at Spire Thames Valley Hospital. Kevin had his second total knee replacement surgery – this time for his left knee.
Kevin said "Mr Vedi has been fantastic. He was calm, confident and reassuring before and after surgery."
Kevin concluded "I am loving being back mowing lawns for myself and other neighbours – this time using both legs! Before my surgery, I could only walk a mile before my knee would swell up. Now, I can easily walk 2 ½ miles each day. I am also enjoying being able to go back into the primary school I help at for extra reading once a week. It feels great having the confidence to walk into school and no longer be in any pain. Thank-you Mr Vedi."