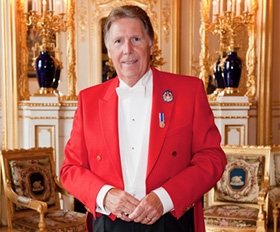 Brian, age 73, was referred back in 2017 to see Mr Vedi through Choose and Book about his painful knee.
Brian's work as a celebrity toastmaster meant Brian needed to be mobile as he performed and moved across the floor, engaging with his audience.
Brian had an Xray showing moderate arthritis in his right knee. Initially, Mr Vedi gave him a steroid injection, directly into his knee but Brian showed no real improvement. So, Mr Vedi provided some other options, which included having the NStride autologous injection which was available privately - not through the NHS.
Mr Vedi commented "The longer-term aim is that this will stop the need for key-hole surgery."
Brian decided to pay for this treatment and booked the procedure at BMI Bishops Wood Hospital in Northwood.
Brian said "The pain relief wasn't instant but within a few weeks I was standing and walking much better. Mr Vedi was brilliant."
After two years, Brian had another Xray on his right knee which showed his right knee had not deteriorated at all since he had had the NStride treatment, and instead the treatment had contained his osteoarthritis.
During lockdown, Brian began limping again and this time it was his left knee which began aching from standing for long periods of time. Another Xray revealed there was moderate arthritis on the left knee. Brian decided to go back to Mr Vedi and have the NStride treatment on his left knee in June.
Brian said "It is such a relief to have the NStride injection into my left knee. I would highly recommend Mr Vedi and the NStride treatment for those suffering with moderate arthritis. I feel I can go back to work and enjoy life without being in constant pain."