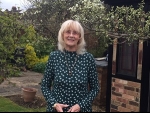 Jean Compton, age 75 had two hip replacements within 6 months which transformed her life.
Jean, who lives in Maple Cross, Rickmansworth was married to her husband Tom for 51 years until he sadly passed away at the age of 92, from cancer in September 2017.
Jean had been having dreadful problems with her hips and was in constant pain.
She said "I love gardening, walking and shopping but I was unable to enjoy any of these activities. I could hardly stand up because I was in so much pain – it felt like a constant stabbing which kept me awake throughout the night".
So, on recommendation from her GP, Jean went to see Mr Vikas Vedi, Consultant Orthopaedic Surgeon, at BMI Bishops Wood Hospital in Northwood.
Further to her consultation and X-ray in 2012, Mr Vedi confirmed that Jean had osteoarthritis and needed to have surgery on both hips.
Mr Vedi said "Jean was in terrible pain. Her X-ray showed significant osteoarthritis, which needed surgery - more conservative measures would not be able to treat this effectively. We initially tried a steroid injection, which did not relieve her symptoms. Jean needed total hip replacements on both her hips".
Because Jean needed to look after her husband, she was unable to proceed with surgery straightaway, and decided to battle on regardless:
"I just had to focus on my husband and mind over matter, I just about managed to cope."
And then in September 2017, Jean's husband died:
"I needed to have a couple of months to grieve privately and then I decided to finally sort my own health out".
Jean went back to see Mr Vedi in November 2017 and agreed to have a hip replacement – initially on her left hip which was much more painful and then the right hip the following June. For each operation, Jean stayed at BMI Bishops Wood Hospital for three nights.
Jean said, "I was petrified when I had the first operation and had an epidural – I kept thinking I was falling off the operating table but the second time I was much more confident. Although for the first operation I was last into theatre, I was the first to be standing up afterwards on the very same day."
Although Jean encountered some pain after the operation, it was nothing in comparison to what she endured before surgery.
After six weeks, Jean was able to walk without any crutches and start driving again:
Jean said "I'm so much more confident driving on my own and I am even able to drive to see my brother who lives 90 miles away. Mr Vedi has transformed my life. I feel I'm 16 again – I can't stop laughing and feel incredibly happy. I'm able to go out with my friends, go shopping, go to parties and go on holiday now. Thank you, Mr Vedi".
Mr Vedi concludes, "I'm so pleased Jean is enjoying a new lease of life. She has had some very difficult years coping with such excruciating pain. I'm delighted to see she is now able to enjoy life again to the full'.